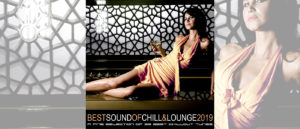 Best Sound of Chill & Lounge 2019  (33 Chillout Downbeat Songs with Ibiza Mallorca Feeling)
After having reached the Top 10 of the Electronic charts with the first compilation, the label Freebeat Music Records is now releasing the eights edition. Best Sound of Chill & Lounge 2019 presents many brand-new songs published for the first only on this compilation. This time you will hear the brand-new highlight from "Audiozoom" open end (Deep Jazzy Electro Cut), Bernon "Electro Jazz (Cool Groove Mix)" Jazzy System "Sunday 3 AM" a very modern cool Lo-Fi Chill Mix, Soundset City "Shining Star" a smooth vocal Lounge Mix. Also you will hear new songs by Jean Mare, Nightbar Jazz, Artenovum, Nightview and many more. On "Best Sound of chill & lounge 2019" you will find a wide spectrum of genre typical songs. You will be confined of fascinated, wonderful soundscapes and jazzy grooves. Enjoy the relaxing moments with international artists of this style. Let swing your body and soul and chill at the sound of these 33 great tracks.
Downloads auf allen gängigen Downloadportalen und Download Shops weltweit: iTunes, Saturn downloads, Mediamarkt downloads eMusic com, DJ downloads, juno downloads, amazon.de.com, Beatport und viele weitere!
Streaming über Apple Music, Quobus, Spotify, Tidal, Juke, Napster, Deezer und vielen mehr!
Audiozoom – open end (Deep Jazzy  Electro Cut)
Bernon – electro jazz (Cool Groove Mix)
Jean Mare – For You (I Do What it Takes LoFi Chill Mix)
CiYou – a mirrow (Chilltronic Lounge Mix)
Soundset City – harmonic movement (Old School Lounge Mix)
Jazzy System – Sunday 3 AM Piano Chillhop Mix)
Audiozoom – city islands (Jazzy Young Groove Mix)
Beatwork – blue sunset ( Modern Chillwave Mix)
Pulsatronic – modern clubhouse (Deep Chillhouse Voices Mix)
Bernon – deeper (Chillhouse Cut)
Aqualuna – New love (Chillout Dream Mix)
Artenovum – innocense (Mystic Voices World Mix)
Jean Mare – breath of dawn (Atmosphere Voice Mix)
Buddhatronic – performance modus (Deep Soundscape Mix)
For Found Future – Lights of dawn (Ray of Hope Mix)
Artenovum – Hym of mystic treasures(Audition of Sounds Mix)
Jean Mare – Secret World (Mode X Chillout Mix)
Richard Bonnée – electronic dream flight (Cool Groove Soundscape Mix)
Nightzoom – abstract fragments (Lounge Mix)
Soundset City – Shining Star (Smooth Vocal Lounge Mix)
Nightbar Jazz – stay tuned ( Lo-Fi Lounge Mix)
Nightview – Night Lounge Corner (Sexy Chillhop Mix)
Soundset City -I don't know what to do (Vocal Melody Cut)
Bernon – short harmony (Nu Jazz Lounge Mix
CiYou – old and new (Lo-Fi Chill Cut)
Nightzoom – Loungebreak (Retro Lounge Mix)
Jazzy System – Temporary Condition (Lo-Fi Chillhop Mix)
Francois Dupont – otherwise (Dowmtempo Lounge Mix)
The Space Ensemble Project – missing control (Future Sound Mix)
Sunscape Project – flowers from mars (To The Sky And Back Mix)
Artenovum – voyage (Enigmatic Spirit Mix)
Guardians of Secret – endless movements (Alchemy Mix)
Artenovum – sunshaker (Soundscape Del Mar Mix)
Also available: